Maine Business Community's Secret Weapon: Student Mentorship Through Junior Achievement
Author: David Pearl, Yarmouth High School Educator
Work Readiness
Published: Tuesday, 01 Mar 2022
---
Sharing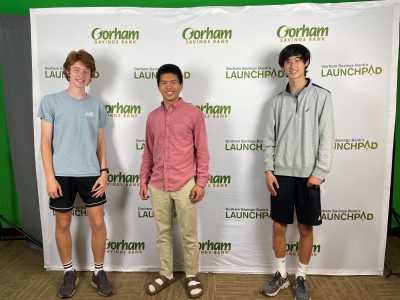 Image caption: Yarmouth High School Titan Challenge 2021 Winners
Utilizing Maine's business leaders as student mentors makes for an impactful and positive experience, personally and professionally.
I've witnessed the power of mentorship first-hand: Each year I partner with Junior Achievement of Maine, an organization dedicated to bridging the gap between the education and business communities to inspire and prepare K-12th grade students to plan for successful futures. Junior Achievement's learning experiences, delivered by community members, help students gain skills in money management, entrepreneurial mindset, and career and work readiness.
These are all valuable life skills I teach my students everyday as an educator at Yarmouth High School.
One of the most impactful mentoring events I incorporate into my curriculum is Junior Achievement of Maine's Titan Challenge. Every year, this experience provides real world opportunities outside the classroom, something I am always looking for. Meeting and working alongside Maine's business leaders makes this an exciting change from school and having this as a competition raises the stakes and drives participation.
In the many years I have sent students to the Titan Challenge, not a single student has decided to not do it the following year. I have 100% repeat customers!
In the JA Titan Challenge, students compete as business CEOs in the phone industry. They experience first-hand how an organization evaluates alternatives, makes decisions, analyzes the outcomes of those decisions, and then strategizes what to do next. The students work in teams to guide their company through the ups and downs of the market.
Their choices will lead their virtual smartphone company to success or failure.
What I love is the JA Titan Challenge draws on a number of skills each team member will need to become a meaningful contributor in tomorrow's workforce: creativity, finance, collaboration, strategy, leadership, and more.
All high schools throughout Maine can participate and the event takes place at various Maine businesses during the school day. This is a great opportunity for students to take advantage of another natural resource we have in our state – Junior Achievement and business mentors who bring an entrepreneurial, can-do mindset to our students.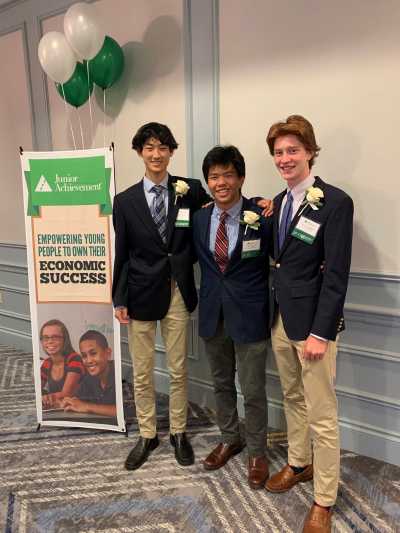 Image caption: Titan 2021 winners share their experience at JA's Maine Business Hall of Fame South
In past years, our students have visited Tyler Technologies. Being on their campus and working with a professional mentor in a corporate office setting, makes this a very special experience. So many wonderful business professionals are willing to take time to mentor our students. Junior Achievement's Titan Challenge allows us to take advantage of this!
The pay-off for students is priceless. Several of my JA Titan Challenge veterans have gone to college to study economics or business. This year three of my seniors took the extra initiative and created a Finance Club - for those who have a natural interest in this field. By incorporating their passion for finance and their experience winning the 2020 JA Titan Challenge the seniors hope to encourage other Yarmouth high schoolers to participate. My goal for this club is to do as little direct instruction as possible. I would rather empower students to explore and learn from each other.
As the JA Titan Challenge date gets closer, there is normally a buzz in my classroom, but with the introduction of the Finance Club, the buzz has already begun!
If educators are looking for ways to engage their high school students with real-world scenarios, I encourage you to learn more from the Junior Achievement team.
We use cookies to provide you a personalized experience. How we do this is by analyzing user behavior on our site and sharing data with our advertising and analytics partners. You consent to our cookie policy if you continue to use this website.