JA's Maine Business Hall of Fame 2021 Recap
Author: Caroline Blanchard
Community Involvement
Published: Wednesday, 06 Oct 2021
---
Sharing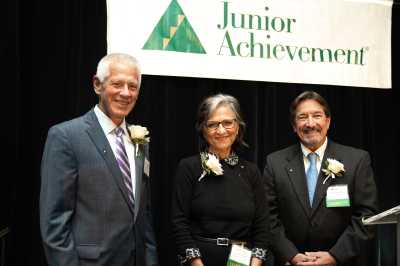 Image caption: Larry Wold, Kathie Leonard, and Steve DiMillo before being inducted into JA's Maine Business Hall of Fame
Junior Achievement's Maine Business Hall of Fame South took place on September 29th at the Sheraton at Stable Oaks in South Portland and was also live streamed virtually. Many from Maine's business community joined us in the celebration to honor this year's laureates; Steve DiMillo, Manager of DiMillo's On The Water, Kathie Leonard, President & CEO of Auburn Manufacturing, and Larry Wold, Maine President of TD Bank. Junior Achievement alumni from Yarmouth High and the Middle School of the Kennebunk's were also featured to share their stories about their Junior Achievement experiences and how it has impacted their lives since.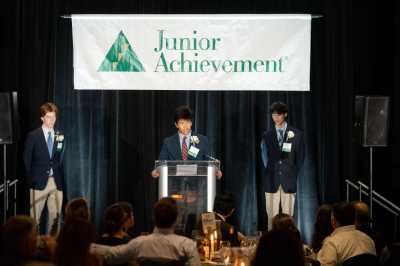 Image caption: Students from Yarmouth High School talk about their experience winning JA Maine's Titan Challenge
The three Yarmouth High School seniors Elliott Cowles, Frazier Dougherty, and Owen Gillan shared their experience going through the Junior Achievement Titan Challenge and becoming the first team in the nation to win in the newly redeveloped simulation. JA Titan introduces students to business, entrepreneurship, and soft skill development through a series of hands-on, interactive lessons and a real-world simulation that puts them in the CEO seat to run a company for the day. Students take a deeper dive into fundamentals of budgeting, problem solving, career planning, and other essential skills they need to become successful adults.
According to Cowles, the team won this year's challenge, held virtually due to COVID-19 by "outmaneuvering their opponents to gain market control." In his speech Cowles shared "we calculated our odds to maximize efficiency across multiple disciplines to create an optimal product for the varying market types. We made sure that our product was up to date with the newest technology, raising its value, to pass our competitors." During his speech, Dougherty shared it was their weeks of practice leading up to the competition that helped them take home the gold, while other teams "crammed the night before." The team ended up not losing a single point in any round of the game.
Doughty went on to share, "our skill and passion for the Junior Achievement Titan Challenge hasn't stopped since the end of the competition. Since, we have created the "capitalism club" at Yarmouth High school, which will teach students about entrepreneurship, economics, and finance in a fun and engaging way."
Middle School of the Kennebunk's 7th graders James Twomey and Kaelan MacLeod spoke about their multiple Junior Achievement experiences throughout school and what they wanted the audience to know about what they have learned. Twomey informed the audience about different forms of payment such as credit cards, debit cards, and mobile payments. He went on to explain how "you must be careful when you buy things with a credit card because you can spend money you don't have yet." Twomey highlighted that his favorite Junior Achievement lesson was about entrepreneurship and how he was an entrepreneur in the making stating, "maybe some of you will be my employees one day."
MacLeod went on to explain how Junior Achievement taught him good money management habits so he could save, earn, and spend money strategically. He shared how Junior Achievement volunteers taught him about "things that aren't part of our everyday learning in school", such as the differences between wants and needs. MacLeod emphasized that the concepts learned "are so important because it is going to help me be a successful adult." Both students shared their gratitude for their Junior Achievement experiences and volunteers. Twomey noted, "if more kids, like me, got to experience Junior Achievement…there would be a whole lot of really smart and really creative kids out there."
We use cookies to provide you a personalized experience. How we do this is by analyzing user behavior on our site and sharing data with our advertising and analytics partners. You consent to our cookie policy if you continue to use this website.