InspireME – Learn to learn, then never stop learning
Author: Pamela Bennett
Community Involvement
Published: Monday, 16 Nov 2020
---
Sharing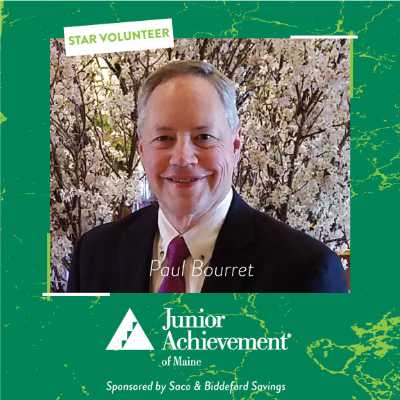 Paul Bourret is committed to ensuring Maine students can become tomorrow's leaders. Each year he proudly volunteers for Junior Achievement of Maine's Titan Challenge, where hundreds of students across Maine compete as business CEOs.
Spending the day mentoring students in this competition allows Paul to provide guidance and expertise, enabling students to make the right business decisions.
JA experiences such as Titan transform students by opening their eyes to opportunities - being an entreprenur, solving problems and being an effective leader.
Read further to see why Paul feels it's important to "learn to learn, then never stop learning."
What was your first job?
I graduated with my degree in Chemical Engineering during a recession. At that time, no one was hiring chemical engineers, so I took a job at a small company as a supervisor. It did not pay well, but it gave me good experience working with people. About a year later, I was offered a supervisor position at a growing company called Cyro in Sanford. I worked the night shift for a little over a year before I was able to move into an engineering position. I have been working there through a few company name changes ever since then.
What did you want to be when you grew up?
I was always interested in science from a young age. Growing up I always thought I would become a paleontologist – I loved me some dinosaurs growing up! When I was in middle school, I developed an interest in chemistry and started to focus my attention there.
What is your favorite part about your job?
Learning new things and helping my customers. Over the years I have learned a lot more about acrylic plastics than I ever thought that I would. There are a number of different ways to make it and there are a million ways that our customers work with it. Now that I am working with customers using our products to make aircraft windows, it is interesting to learn how they form our product to keep superior optics that pilots require. I also enjoy the international travel and the ability to learn about new cultures that my job allows.
What inspires you to volunteer?
I feel it is important to give back to the community. I have always felt that a good education can solve a lot of problems. It feels great to see the face on students when they "get it" during our JA sessions.
What the best advice you can give a student?
Learn to learn, then never stop learning. Learning to communicate well through writing and public speaking is also important. After focusing a lot of my high-school and early college time in math and science classes, I discovered that my writing skills had slacked. So, I took a few classes where I had to focus on writing and my writing skills improved. It is surprising how many people filling out work applications cannot write well, and that can be an awful first impression.
Though JA of Maine volunteers don't do it for accolades, these community leaders should be celebrated! Follow InspireME on our social media platforms and like, comment or share to help celebrate our incredible volunteers.
We use cookies to provide you a personalized experience. How we do this is by analyzing user behavior on our site and sharing data with our advertising and analytics partners. You consent to our cookie policy if you continue to use this website.