InspireME - Find joy in volunteering for your community
Author: Pamela Bennett
Community Involvement
Published: Monday, 09 Nov 2020
---
Sharing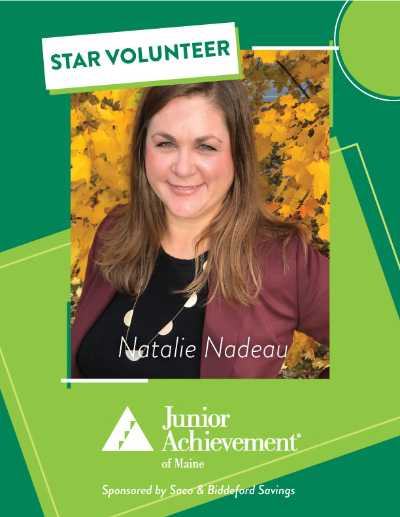 This week for our InspireME campaign we feature Natalie Nadeau of Thompson Financial Group.
Because Natalie's parents "were so selfless, always putting others' needs before their own", she learned early on that giving back was not only important, but it provided a sense of joy and satisfaction.
As a dedicated Junior Achievement of Maine volunteer for many years, Natalie brings enthusiasm to the classroom and has a willingness to try new methods teaching JA lessons to students.
From starting out in education, to banking, and now the financial industry, read about Natalie's career progression and what advice she shares with our Maine students.
What is your favorite part about your job? The best part about my job as a Financial Services Representative is being able to help people reach their financial goals, one step at a time. The tag line of our company is "Your family, your future" and it's truly an honor to see one generation after the other look to you for financial advice.
Who inspired you growing up? My parents were a huge inspiration to me growing up and still are today. I watched them work so hard to create the life they wanted for themselves and their three daughters. They were so selfless, always putting others' needs before their own. They taught me at such a young age how important it is to give to your community. I've watched my parents volunteer for years and have seen the joy not only on their faces but on the faces of those they have helped. They have shaped me into the person I am today and I hope to one day watch my two sons follow in the same footsteps as my parents as they give back to their communities in which they live.
What were your strengths in school? Growing up, I loved the social aspect of school which included: playing sports, spending time with my peers, and volunteering in the community. I have always loved Math, so that was definitely one of my favorite parts about school and one of my biggest strengths. From a young age Math was always my favorite subject which continued into my college years when I majored in Elementary Education with a concentration in Math. I even went on to become a Math teacher for a short amount of time!
What is the best advice you can give a student? The best advice I can give to a student is to do your best, have fun, and step out of your comfort zone. Try your hardest at everything you do, even if it's not your strength. Make the best of every situation and have fun doing it. Step out of your comfort zone and embrace new experiences!
Did you change your career path? I sure did! Ever since I was a young girl, I loved the Boston Celtics, so when it was time for me to pick a major for college I decided to go to UMASS Amherst to study Sports Management with the hopes of working with my favorite team. However, after my first year I changed my mind and transferred to UMAINE Orono to major in Elementary Education (but I still love my Celtics!). After completing one year of teaching after college, I once again decided to change my career and worked in banking for over 11 years. I've now worked as a Financial Services Representative at Thompson Financial Group for almost 4 years! During my career changes, the most important thing I learned is that it's important for each person to explore the opportunities available to them to find their true passion. I'm grateful for each experience I've had in my life that has led me to where I am today.
Though JA of Maine volunteers don't do it for accolades, these community leaders should be celebrated! Follow InspireME on our social media platforms and like, comment or share to help celebrate our incredible volunteers.
We use cookies to provide you a personalized experience. How we do this is by analyzing user behavior on our site and sharing data with our advertising and analytics partners. You consent to our cookie policy if you continue to use this website.