InspireME – Easing your volunteer fears
Author: Pamela Bennett
Community Involvement
Published: Wednesday, 25 Nov 2020
---
Sharing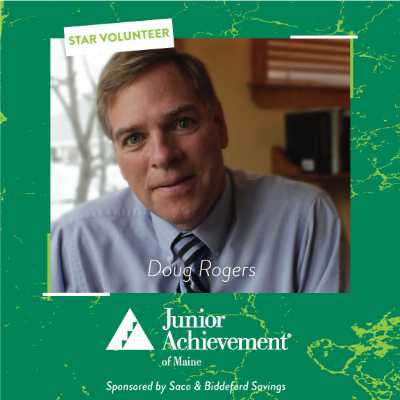 For our last segment of InspireME, meet Doug, a new volunteer to Junior Achievement of Maine last school year.
Eager to donate his time after retiring, Doug was systematic in his approach as he began his volunteer journey. He opted first to experience what it was like teaching JA lessons by job shadowing another volunteer, before leading his own classroom of students.
Seeing first-hand the student's enthusiasm, curiosity and energy, Doug "found the kids to be encouraging and supportive", which reduced his hesitations and put his mind at ease. After teaching multiple 4th grade classes, Doug quickly realized "the kids are your biggest fans."
Continue reading to learn more about Doug and his experience as a first-time volunteer!
What was your first job?
I began my career with the international accounting firm of Ernst and Young, then a mid-size firm with offices located in Maine and New Hampshire and finally as a sole practitioner located in Kennebunk, Maine.
I worked as a CPA for almost 40 years in public accounting. In all but one of those years, I worked primarily in the area of taxation. My clients ran the gamut of business types---hospitality, construction, doctors, dentists, attorneys, developers, etc.
Did you change your career path?
I received my law degree and passed the New York State bar exam but never practiced law opting instead to work in the accounting field.
What grades have you volunteered for?
So far, I have only taught 4th graders. I love their enthusiasm, energy, and curiosity. I have been most impressed with how much they seem to already know.
What is something you would say to someone who is hesitant to volunteer?
Prior to JA, my teaching opportunities were limited to a few adult education courses. I have always been interested in teaching but had no experience teaching children. However, any real concerns I had were reduced after I job shadowed another volunteer and then read through the great teaching materials provided by JA. The materials clearly walk you through the objectives for each class and make suggestions on alternative ways to teach the class. I was also impressed with the teaching guide's emphasis on student participation.
What was your biggest concern about volunteering in front of a classroom of students?
I was a little worried when I first started teaching but I found the kids to be encouraging and supportive, perhaps in part because they love the change in their daily classroom routine. As we finished up one session, many of them would ask when the next session was going to be held. I worried that I might run out of things to say and do before each session ended but, given the many questions and observations made by the kids, I found that I had little or no time left before my time was up. The students loved the games, which are part of the curriculum, and would often ask about taking the games home with them so they could play with their siblings and friends.
What has been the hardest part of volunteering?
I think the hardest part of teaching for me has been to know when to stop taking questions and comments in order to move on and complete the session.
What was your biggest surprise take-away after your first volunteer experience?
I have realized that there is no right or wrong way to teach these courses. You should follow your instincts and do what is most natural to you and comfortable for you. In many ways, the kids are your biggest fans the moment you first walk into their classroom. I think that any fear or concern a volunteer might have will quickly dissipate when they realize this.
Though JA of Maine volunteers don't do it for accolades, these community leaders should be celebrated! Follow InspireME on our social media platforms and like, comment or share to help celebrate our incredible volunteers.
We use cookies to provide you a personalized experience. How we do this is by analyzing user behavior on our site and sharing data with our advertising and analytics partners. You consent to our cookie policy if you continue to use this website.