InspireME - Contribute to the collective society
Author: Pamela Bennett
Community Involvement
Published: Wednesday, 28 Oct 2020
---
Sharing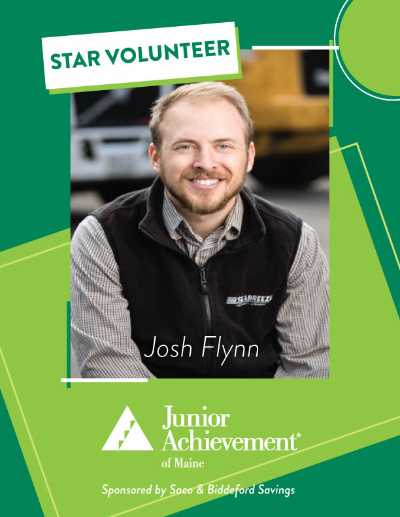 In our first blog focusing on the power of volunteering for our November campaign InspireME, meet Josh Flynn, CEO of Seabreeze Property Services.
Josh recognizes "if you give a little of yourself and your time to the collective society and provide whatever support you can to those around you", you will have a sense of fulfillment.
Children benefit when active and supportive community members are willing to sacrifice their time and energy to volunteer. Volunteers bring JA programs to life, connecting the education to the business communities, giving students insight into the real world so they can plan for a successful path forward.
Read further to hear why Josh selflessly donates his time as a volunteer to Junior Achievement of Maine.
What was your first job? I was hired as a dishwasher at the Piper Shores Retirement Community in Scarborough when I was 16. My dad said that if I wanted to buy a car and have a cell phone, I had to have a job!
What is your favorite part about your job? The best part about my job is encouraging and supporting our employees and watching them succeed. I really think individual success is great but a collective victory and providing a really great place to work and grow is so much more fulfilling. I always try and set our employees up to succeed and to push them towards their goals.
How did you choose your career path? Early on in college I changed majors to environmental studies because of my relationship with the outdoors. During my Peace Corps experience I was an environmental educator, and then worked on a flower farm, and then in a retail garden center. Finally, I ended up with a landscaping company and my career moved forward from there. I really didn't choose a path deliberately but followed a type of work that interested me in a setting I was comfortable in and my career kind of chose itself.
What the best advice you can give a student? Help. Plain and simple. If you have the capacity to assist others when they need it and can continually provide that type of value to others, you will always succeed. Those willing to genuinely help and work well with others and look to always contribute to the greater good of the group/company/society, then people will regularly seek you out for their team.
What inspires you to volunteer? I'm inspired to volunteer because I feel a bit empty without it. Time of course is very precious but it's important to step back and give a little of yourself and your time to the collective society and provide whatever support you can to those around you. I've met a lot of great people who are positive, compassionate, driven, and I try to surround myself with those types in both my personal and professional life and that includes volunteering. I just think there is a lot that can be done to make things better for a lot of people and I can certainly take some time and effort to contribute to that.
Though JA of Maine volunteers don't do it for accolades, these community leaders should be celebrated! Follow InspireME on our social media platforms and like, comment or share to help celebrate our incredible volunteers.
We use cookies to provide you a personalized experience. How we do this is by analyzing user behavior on our site and sharing data with our advertising and analytics partners. You consent to our cookie policy if you continue to use this website.