InspireME - A little time makes a big impact
Author: Pamela Bennett
Community Involvement
Published: Wednesday, 04 Nov 2020
---
Sharing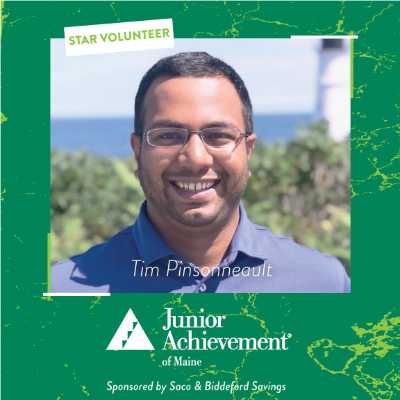 JA of Maine volunteers, like Tim Pinsonneault of Wayfair, help create a generation of students who are encouraged to pursue higher education, be financially literate, ready to work and possess the entrepreneurial spirit that has made Maine a great state to live and work. Tim believes in volunteering because it "allows an opportunity to change someone's trajectory in life."
Now in his 4th year of volunteering for Junior Achievement of Maine, Tim is a wonderful advocate, giving back to his community and inspiring students to dream big. Continue reading to learn more about Tim's professional journey and the advice he has for the next generation.
What was your first job?
I worked as a paperboy after school at 13 in my neighborhood in Topsham. At age 15 I worked at the local McDonald's where I became a weekend shift leader at age 16. My time at McDonald's helped me learn about how a business functions and how operations impact revenue at a young age.
What is your favorite part about your job?
We have a voice at Wayfair. If we see an opportunity to improve, we are empowered to speak up. Additionally, our commitment to improving the customer AND employee experience every day is relentless. Our business has changed a lot with the pandemic and the compass continues to point towards customer and employee satisfaction.
Who inspired you growing up?
My parents continue to inspire me every day. They are the hardest working, most caring people you will ever meet in my opinion.
What did you want to be when you grew up?
I wanted to be a sports broadcaster and actually went to school to do just that. I am a huge sports fan and wanted to share my love of sports and relevant information to improve the experience of watching the game.
How did you choose your career path?
Honestly, I had no plans of remaining in customer service and certainly did not plan on finding a job in a contact center. At 26 I looked at my resume and realized I had 10 years of customer service leadership while being in school. I learned the fundamentals of operations, payroll, scheduling and being a people manager. I worked long hours, nights and weekends and leaned on these skills to get where I am today.
What is the best advice you can give a student?
Know yourself and what you are good at. Figure out how to lean on things you are good at to lift things that you need to improve on. Also, it is very important to ask for help and assistance if you need it. Being open and honest when you need support will help you grow more than faking it or bowing out.
What are you passionate about?
People! People are at the center of what I do. I am a people person who thrives on conversation, networking, and collaboration. The work from home environment has challenged all of us in new ways this year and knowing I have an opportunity to virtually connect with someone every day and change their day is exciting.
What inspires you to volunteer?
Personally, the opportunities I have had to volunteer have been in the community that I grew up in, which was really cool. Giving back allows an opportunity to change someone's trajectory in life. I have been very blessed in my life and the opportunity to impact someone else directly or indirectly is something I am grateful for.
Though JA of Maine volunteers don't do it for accolades, these community leaders should be celebrated! Follow InspireME on our social media platforms and like, comment or share to help celebrate our incredible volunteers.
We use cookies to provide you a personalized experience. How we do this is by analyzing user behavior on our site and sharing data with our advertising and analytics partners. You consent to our cookie policy if you continue to use this website.