Extraordinary Educator: Melanie Brown, Ellsworth Middle School
Author: Abby Rioux
Community Involvement
Published: Monday, 02 May 2022
---
Sharing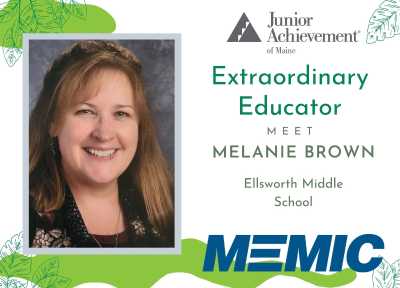 Image caption: Melanie Brown, Ellsworth Middle School
Junior Achievement of Maine, in partnership with MEMIC, recognizes educators for their tremendous work, passion, grit, and perseverance. As role models and mentors, educators empower, motivate, and inspire students to envision a future of possibility. Join us for our 2nd annual Extraordinary Educators campaign as we take a closer look at Maine educators, their stories, their commitment to serving our youth, and the impact they have on students.
Melanie Brown has been an educator for 30 years, 22 of those in the Ellsworth School System! As her JA volunteer, Julie Vittum shared, Melanie is a "wonderful person and a very caring and intelligent woman. She is extremely artistic and smart, patient and kind and that is reflected in all that she does. Her classroom is amazing and a direct reflection of her creativity; it is really something to be admired."
Read further to learn about Melanie Brown and why she's a 2022 "Extraordinary Educator".
What is a mantra you live by?
A mantra that I live by is - I measure my success by my most struggling student. It keeps me on my game.
In what ways have your students surprised you this year?
My students have been through a very difficult 2 years. Everything seemed to turn upside down for them. Yet, as we look forward to more normalcy in our lives post-pandemic, students look towards their future and remain hopeful. My seventh-grade students are energetic, funny, all-around goofy, but at the same time are serious about making a positive difference for their future.
If you could pass on any wisdom to your students, what would you share?
I tell my students to never give up no matter how difficult life gets. Keep your chin up and look ahead and rise above it all.
Share a moment when you felt most joyful or inspired about the work that you do.
I love to see the excitement in my student's discussions and conversations. Our students crave to have conversations, even if they are difficult. Kids need to understand the world around them and be able to have better arguments. There is a lot of learning happening when they are able to listen and respond in thoughtful discourse.
Is there a memorable JA moment that resonates with you?
Each year, my students have completed the "It's My Business" course. One student in particular never considered themselves as an entrepreneur. Listening to this student throughout the course, the excitement grew with each lesson. By the end of the course, this student told me "Ms. Brown, I plan to have my own business one day. This course helped me figure out what I want to do when I'm older!" JA opportunities for all students can lead into financial success and perhaps be that next person with a great pitch and successful business!
Thank you, Melanie for serving Maine's youth and empowering the next generation! Learn how you can get involved as an educator, volunteer, or corporate partner and truly make a difference.
By following our Extraordinary Educators campaign on JA's social media platforms, you can help us honor Maine's educators by showing your gratitude and appreciation for their tremendous service.
Facebook: Junior Achievement of Maine
Twitter: @JAofMaine
Instagram: @JAofMaine
LinkedIn: Junior Achievement of Maine
YouTube: Junior Achievement of Maine
We use cookies to provide you a personalized experience. How we do this is by analyzing user behavior on our site and sharing data with our advertising and analytics partners. You consent to our cookie policy if you continue to use this website.