Extraordinary Educator: Kathy Feenstra, Howard C Reiche Community School
Celebrating Maine Teachers
Author: Jenna Jeffrey
Corporate Responsibility
Published: Wednesday, 12 May 2021
---
Sharing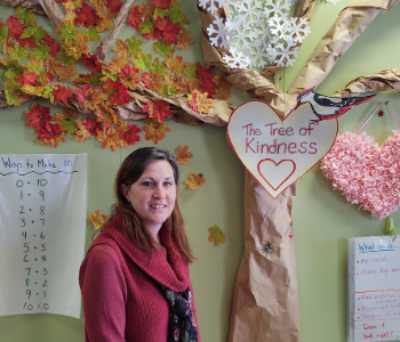 Image caption: Kathy Feenstra, Howard C Reiche Community School
Junior Achievement and MEMIC recognize educators as role models and mentors who help empower, motivate, and prepare students to envision their future and ignite a passion for continuous learning. The "Extraordinary Educators" campaign will take a closer look at Maine educators, their stories, their commitment to serving Maine's youth, and the impact they have on their students.
Take a look at our Q&A with Kathy Feenstra of Howard C Reiche Community School!
What made you want to become a teacher?
Since fifth grade I have known that I wanted to be a teacher. My grandfather was ill at the time. My mom was spending a lot of time with my grandmother at the hospital. My fifth grade teacher, Mrs. Allen, took me under her wing and made sure that I was doing okay, every day. At the beginning of that year, a few classmates and I were given a reading curriculum that we had already done. We had been in a multi-grade class the year before, and were taught the fifth grade curriculum. When I told Mrs. Allen this, she said that it was out of her hands, at that time teachers had very little say in the curriculum to be taught. I asked who was in charge and she told me that it was the principal. She supported my going to the principal's office and asking for something else. My mother was embarrassed when she heard about it, but Mrs. Allen told her that it was a great thing. We ended up with a new, really great reading program for that year. Mrs. Allen cared about me and even more she empowered me. I wanted to do the same. I want to make a positive difference in children's lives, just as she did for me.
Do you have a favorite memory as a teacher?
I have so many great teaching memories, but the best are small moments. In a non-covid world, I greet students at my classroom door every morning asking if they want a high five, a handshake or a hug to begin the day. By doing this, I am able to get an emotional read on my students in a fun non-invasive way. This daily exchange fills my heart with joy. Almost everyone goes for the hug. It's one of my favorite parts of each day.
Why do you choose to bring JA to your students?
When I first learned of JA from a colleague, it sounded like an interesting experience for my students. I was very lucky to have Marty Madden come to my room as a JA teacher/partner. Marty is a father of three and his wife is a teacher. He was an effective educator from the first day. He understands children, he keeps the class's attention and he quickly adapts to any behavior issues that might arise. Having "Mr. Marty" in our classroom is a highlight every year. He teaches about community, needs/wants, and setting dreams/goals. Last year, when we went to full remote learning, Marty made a few read aloud videos to share with my (and a colleague's) class. Although it wasn't officially a JA course, our partnership continued during the pandemic, and he connected the books to some of the JA lessons. I was impressed and thankful. I am so happy that we have found a way to continue our partnership this year through video lessons.
Do you have a favorite JA moment in your classroom?
When trying to decide on a favorite JA moment, I contacted Marty for some input. His answers were the best! We often chat after lessons and laugh at the joyful responses that we get. Here are a few highlights: From the mouths of babes: It was Marty's first day of his second year in our classroom. As he walked in, one of the students looked him up and down and said, "Your suit. Your tie… You are so handsome." Learning the English Language: There was a student who showed up midway through the year who only spoke Russian. Marty tried to communicate, but the student only stared at him. By the end of the course, we were so happy to hear him speaking English (fairly well for it only being a month later) and hearing him say "Mr. Marty." The lesson impact: Once there was a conversation about the students starting their own businesses. There were two different students who both wanted to open a bakery. One wanted to charge 10 cents per cake so everyone could enjoy one. The other wanted to charge $1,000 so he could make a lot of money. We then explored the outcomes of those two different scenarios. Through a conversation with the class, they all determined that 10 cents was too little because they wouldn't be able to pay the rent and buy supplies. They then all decided that they would have a hard time paying $1,000 for a cake. In the end, the two students each had a lower price or a higher price that were closer to appropriate prices. On their own they created their own economy and showcased the way the market dictates how a business needs to be run. Those are complex items for a first grade class to come across on their own. It was great learning!
What do you hope your students take away from their time with you?
My class is centered around the theme of Kindness. The focal point of my room is a large tree. When students do something kind –tied to the Reiche expectations to be Respectful, Responsible, and Ready to Learn – they get to write their name on a leaf, snowflake or flower (depending on the season). The tree decorates one wall of our room as a constant reminder to be kind. I hope my students leave my class at the end of the year with kind and curious hearts.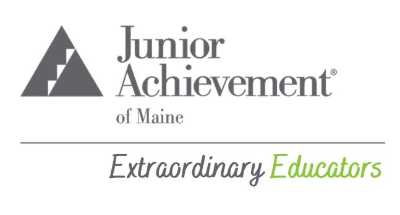 Thank you Kathy for all you do for Maine students!
Follow the Extraordinary Educators campaign on JA's social media platforms as we highlight Maine educators, their stories, their commitment to serving Maine's youth, and the impact they have on their students.
Facebook: Junior Achievement of Maine
Twitter: @JAofMaine
Instagram: @JAofMaine
LinkedIn: Junior Achievement of Maine
YouTube: Junior Achievement of Maine

We use cookies to provide you a personalized experience. How we do this is by analyzing user behavior on our site and sharing data with our advertising and analytics partners. You consent to our cookie policy if you continue to use this website.