Extraordinary Educator: Jason Little, Hodgdon Middle/High School
Author: Abby Rioux
Community Involvement
Published: Wednesday, 11 May 2022
---
Sharing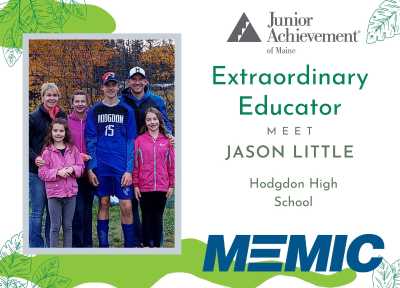 Image caption: Jason Little, Hodgdon High School
Junior Achievement of Maine, in partnership with MEMIC, recognizes educators for their tremendous work, passion, grit, and perseverance. As role models and mentors, educators empower, motivate, and inspire students to envision a future of possibility. Join us for our 2nd annual Extraordinary Educators campaign as we take a closer look at Maine educators, their stories, their commitment to serving our youth, and the impact they have on students.
In his 6th year in education, Jason Little works as a JMG specialist at Hodgdon Middle/High School. Read further to learn about Jason and why he's a 2022 "Extraordinary Educator".
What is a mantra you live by?
Use your smile to change the world, don't let the world change your smile.
In what ways have your students surprised you this year?
This year (and the last 2 years with covid restrictions), the students have continually amazed me with how they have handled all the changes and disappointments with canceled events while they continue to be positive through it. They have taken on the challenges of an altered school year, many of them have been working part-time jobs during these times, and they have been creative with finding new ways to hold community service or special events, despite the new guidelines. With all their responsibilities and the changes, they have gone above and beyond their normal duties to create a positive experience for all the students and to make a difference in their local communities.
If you could pass on any wisdom to your students, what would you share?
Continue persevering, continue learning, continue exploring career options, and continue being the incredible students and future professionals that you all are! There are going to be challenges but you have all the skill, ability, and strength to face those challenges head-on. And keep smiling through it all-it'll make your day and others' day go much better.
Share a moment when you felt most joyful or inspired about the work that you do.
Each Veterans Day, our JMG group hosts an Annual Veterans Day Breakfast & Ceremony. It takes several months to plan out and prepare with our Student Leadership Team taking initiative and responsibility for implementing the plans. They do it all: advertising, cooking, decorating, serving the food, and welcoming the veterans and their family members into the gym. It is truly a student-run event. They stay the night before well into the evening and are back by 6:00 the next morning dressed up and ready to work. When the event is drawing to a close, there are emotional times when guests are thanking the students for all their work, sharing stories of veterans who are not present, and showing gratitude to the students. Our students get the chance to reflect on the work they have done, why it was done, and there are moments of accomplishment and honor to have helped make a veteran's day. It is during these moments that I feel the most joyful and inspired. To quote one of our former students who wrote about a moment such as this, here is what was written as a reflection: "There was a moment that will forever be etched in my memory. An elderly man made his way to the door as I propped it open. He got to me, and I held out my hand. 'Thank you for your service.' I had said these five little words in respect, not expecting one of the most special moments of my life. He looked at me, the biggest smile I had ever seen materialized on his face. He gently took my hand and held it in both of his. 'No, thank you, young lady. It is because of people like you that I have served." These moments, although small, make a lasting impression on our students and me.
Is there a memorable JA moment that resonates with you?
It is the ongoing experience that the students have when they attend the JA Titan Challenge. The students often come in knowing very little about business and the Titan Challenge. They learn from in-class experiences on the platform and then go to the event dressed in professional attire to represent the school and our JMG program in the best way possible. They get the chance to learn from their mentors and they always transition from being nervous about the event with meeting new individuals to being incredibly excited to go back the following year. The overall experience of the event will resonate each year.
Thank you, Jason for serving Maine's youth and empowering the next generation! Learn how you can get involved as an educator, volunteer, or corporate partner and truly make a difference.
By following our Extraordinary Educators campaign on JA's social media platforms, you can help us honor Maine's educators by showing your gratitude and appreciation for their tremendous service.
Facebook: Junior Achievement of Maine
Twitter: @JAofMaine
Instagram: @JAofMaine
LinkedIn: Junior Achievement of Maine
YouTube: Junior Achievement of Maine
We use cookies to provide you a personalized experience. How we do this is by analyzing user behavior on our site and sharing data with our advertising and analytics partners. You consent to our cookie policy if you continue to use this website.