Extraordinary Educator: Erin Barry, Sanford Middle School
Author: Abby Rioux
Community Involvement
Published: Monday, 16 May 2022
---
Sharing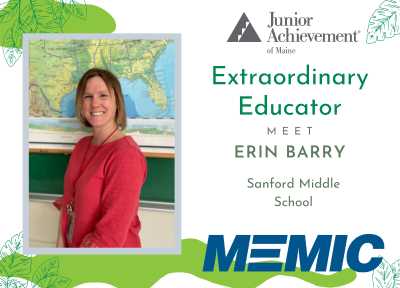 Image caption: Erin Barry, Sanford Middle School
Junior Achievement of Maine, in partnership with MEMIC, recognizes educators for their tremendous work, passion, grit, and perseverance. As role models and mentors, educators empower, motivate, and inspire students to envision a future of possibility. Join us for our 2nd annual Extraordinary Educators campaign as we take a closer look at Maine educators, their stories, their commitment to serving our youth, and the impact they have on students.
Erin Barry has been an educator for 17 years and currently serves as the Social Studies Department Chair at Sanford Middle School. Principal Pam Lydon shares. Erin "has a genuine passion for social studies and makes strong, lasting connections with her students. She is a leader in her department and goes above and beyond supporting the team with resources and support in their classrooms."
Read further to learn about Erin and why she's a 2022 "Extraordinary Educator".
What is a mantra you live by?
Having a strong work ethic and making good choices today will lead to success tomorrow!
In what ways have your students surprised you this year?
Despite the challenges from the last couple of years, my students have been resilient and are making rapid progress.
If you could pass on any wisdom to your students, what would you share?
The character, knowledge, and skills you develop in school each day will lead to future success and prepare you for responsible citizenship.
Share a moment when you felt most joyful or inspired about the work that you do.
I feel inspired after a good class discussion. Or, after the completion of a major project that challenges students.
Is there a memorable JA moment that resonates with you?
I love seeing volunteers that come back year after year. Students are genuinely interested when they hear from someone different in the classroom. These volunteers offer expertise about careers students may have never considered before.
As Social Studies Department Chair, Erin coordinates one-day Junior Achievement experiences for the 7th and 8th graders each spring. This year, her 7th graders were the first in Maine to receive the redeveloped program Economics for Success. A dozen volunteers taught students how to manage their money, learn the advantages and drawbacks of credit, and how to understand credit scores and insurance.
Thank you, Erin for serving Maine's youth and empowering the next generation! Learn how you can get involved as an educator, volunteer, or corporate partner and truly make a difference.
By following our Extraordinary Educators campaign on JA's social media platforms, you can help us honor Maine's educators by showing your gratitude and appreciation for their tremendous service.
Facebook: Junior Achievement of Maine
Twitter: @JAofMaine
Instagram: @JAofMaine
LinkedIn: Junior Achievement of Maine
YouTube: Junior Achievement of Maine
We use cookies to provide you a personalized experience. How we do this is by analyzing user behavior on our site and sharing data with our advertising and analytics partners. You consent to our cookie policy if you continue to use this website.