Extraordinary Educator: Brenda Dolloff, Westbrook Regional Vocational Center
Celebrating Maine Teachers
Author: Jenna Jeffrey
Corporate Responsibility
Published: Friday, 14 May 2021
---
Sharing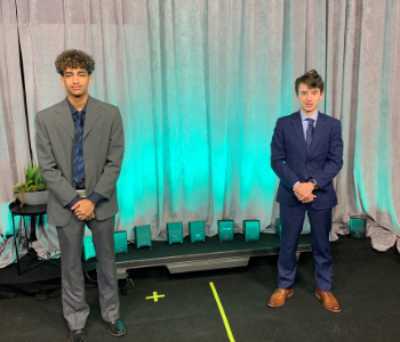 Image caption: Two of Brenda's Students
Junior Achievement and MEMIC recognize educators as role models and mentors who help empower, motivate, and prepare students to envision their future and ignite a passion for continuous learning. The "Extraordinary Educators" campaign will take a closer look at Maine educators, their stories, their commitment to serving Maine's youth, and the impact they have on their students.
Take a look at our Q&A with Brenda Dolloff of Westbrook Regional Vocational Center!
What made you want to become a teacher?
In high school, I remember enjoying what I was learning in Business Communication, Shorthand, and Accounting, and the challenges the teachers of those subjects provided me. In English, I enjoyed the competency tests each quarter for writing, punctuating, and formatting documents; in Shorthand, it was the challenge of recording a speed of dictation for a certain amount of time and transcribing my shorthand with 95% accuracy into a formatted letter or document. In Accounting, it was proving totals at the end of a simulation; the need for accuracy and attention to detail was something I enjoyed very much. I thought very highly of the teachers of these subjects, respected the standards they set and stood by, and appreciated the work ethic they instilled in me. They were approachable but stern. These experiences inspired me to become a teacher.
Do you have a favorite memory as a teacher?
Reflecting on my teaching career of 35+ years, there certainly are many favorite memories honestly. However, one favorite memory is a time when I brought a group of students to a Future Business Leaders of America State Leadership Conference at Sugarloaf. The school department had rented a van for me to drive the 8-10 students to Sugarloaf; the road trip included students reciting their speeches, practicing responses to proposed scenarios requiring decision making and business ethics, and just giggling and funny stories. The students competed in many different business events, participated in mini workshops related to business and were full of energy and enthusiasm the entire trip.
Why do you choose to bring JA to your students?
I appreciate what JA has to offer teachers and students for opportunities that are either difficult or impossible to create in a classroom. The curriculum offerings, guest speakers (pre-Covid), and challenges provided by JA are tremendous. My only issue is that I can't find the time to fit everything in.
Do you have a favorite JA moment in your classroom?
My favorite JA moment at this point is the day of the Titan Challenge, although this year's will be different. My students are still talking about the previous year's challenge and, of course, the delicious pizza! To see the students working together, focused and intent on doing well, conversing and developing a professional relationship with their assigned team mentor, and having fun is a very rewarding experience. Moments like these are special for all teachers.
What do you hope your students take away from their time with you?
Of course, I hope my students remember key things about the business concepts covered in class; however, more importantly, I hope they leave my class knowing and feeling that I cared about them, believed in them, wanted them to succeed, and concerned myself with being an effective teacher so they could be as successful as possible.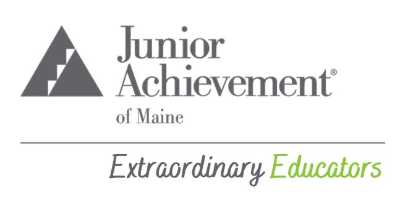 Thank you Brenda for all you do for Maine students!
Follow the Extraordinary Educators campaign on JA's social media platforms as we highlight Maine educators, their stories, their commitment to serving Maine's youth, and the impact they have on their students.
Facebook: Junior Achievement of Maine
Twitter: @JAofMaine
Instagram: @JAofMaine
LinkedIn: Junior Achievement of Maine
YouTube: Junior Achievement of Maine

We use cookies to provide you a personalized experience. How we do this is by analyzing user behavior on our site and sharing data with our advertising and analytics partners. You consent to our cookie policy if you continue to use this website.