InspireME - The power of giving back
Author: Pamela Bennett
Community Involvement
Published: Friday, 20 Nov 2020
---
Sharing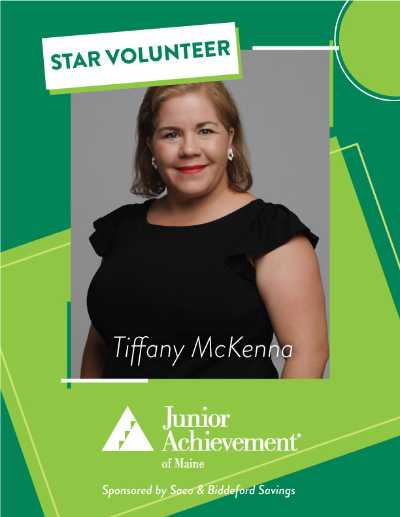 Our InspireME campaign continues with Tiffany McKenna, an Entrepreneur who has been vital to Junior Achievement of Maine over the past 3 years.
A warm, compassionate, and energetic volunteer, Tiffany's passion is in teaching Kindergarteners. Last year alone, Tiffany taught all 9 Kindergarten classes in her local community, creating memorable experiences for these early learners.
Understanding the importance of teaching financial literacy skills at an early age, Tiffany was instrumental in promoting JA to her local elementary school and recruiting new educators and volunteers to move our important mission forward.
Read further to see how Tiffany's career journey takes her from New York City to a small town in Maine!
What was your first job? My first job was selling advertising space on cable television at National Cable Communications in the Chrysler Building. It was extremely boring and basically just data entry. I knew right away I needed something more creative.
What is your favorite part about your job? Getting to meet lots of fabulous entrepreneurs who have followed their dreams and are now selling food they made or grew. I love supporting local farms and businesses. I also love that I can make my own schedule which allows me to do things like coach my kid's running team or teach a Junior Achievement class.
Who inspired you growing up? I was inspired by many of my teachers at Deerfield Academy. Since it was a boarding school, we often got to know them outside of the classroom as well, whether on a sports field or as a dorm parent. I knew early on that I wanted to be a mom, have a career, and do things like coach a team and volunteer. These teachers did it all.
What inspires you to volunteer? It's important that my children see me give back to my community. They might be the world to me, but I want them to know it's a big world and they are very lucky.
Are you surprised that you ended up working in this field? Yes, it was always a dream of mine to have a shop that sold local food. It took some creative thinking and stepping out of my comfort zone to make this happen.
Did you change your career path? Yes, I worked as a publicist in New York City for 13 years before moving to Maine. My last job in that field was as Director of Publicity for Thames & Hudson. I loved the books, talking to the media, getting to know authors, and planning events.
What were your strengths in school? I loved English and theater. Being involved in theater helped me be good at public speaking.
What the best advice you can give a student? Try all kinds of classes, you never know what you will love!
Though JA of Maine volunteers don't do it for accolades, these community leaders should be celebrated! Follow InspireME on our social media platforms and like, comment or share to help celebrate our incredible volunteers.
We use cookies to provide you a personalized experience. How we do this is by analyzing user behavior on our site and sharing data with our advertising and analytics partners. You consent to our cookie policy if you continue to use this website.